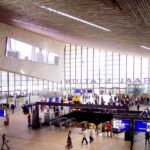 Unveiling of 40 meter wide LED screen in Rotterdam Centraal
While the official opening of Rotterdam Centraal takes place next year, the dynamic and appealing form of the new station has already received many nicknames (as is customary in Rotterdam).
Some say, it looks like the prow of a ship. A ship with the bow towards the center of the city; a logical association for those living in Rotterdam, Europe's largest port city. Although the port performs a critical role in the marine traffic internationally, the image of Rotterdam as a harbor city has been disappearing from the cityscape as urban development encroaches further inland.
With the intention of re-establishing the city's legacy, TEAM CS (a cooperation between Benthem Crouwel Architects, MVSA Meyer en Van Schooten Architecten and West 8) has designed a 40 meter wide by 4.5 meter high LCD screen for the new Station hall. This screen will broadcast footage of the Rotterdam harbor, in an effort to re-establish the city's unique bond with the harbor. This element, which is part of design scope of the new station, Rotterdam Centraal is sponsored by the Port of Rotterdam (PoR).
On Monday, August 26th, the City of Rotterdam was represented by Ms. Jeannette Baljeu from the Transport and Regional Economics Department. Ms. Baljeu was delighted to receive this generous gift from Hans Smits President Director CEO of the Rotterdam Port Authority at the official opening of the giant screen. The unveiling of the screen was enriched by an energetic flash mob performance that was staged by Codarts dance academy.
We have no doubt that the tens of thousands of people who enter and exit the city from the revamped Rotterdam Centraal everyday will enjoy being able to get in touch with Rotterdam's beloved harbor again.