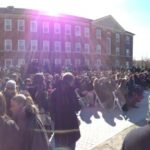 Mayor Bloomberg Announces Completion of First Phase of New Governors Island Park Designed by West 8
On Thursday 14 Nov, 2013, New York City Mayor Michael R. Bloomberg planted the final tree of the new 30-acre park designed by West 8, marking the completion of the first phase of park on Governors Island. West 8 was selected in May 2007 after an international design competition.
"At the beginning of our Administration, Governors Island was little more than an abandoned and neglected green space with derelict buildings," said Mayor Bloomberg. "Twelve years later, Governors Island has become a major attraction for New Yorkers and visitors, as its 172 acres continue to grow more dynamic, more resilient and more beautiful each day. Today marks another important step forward for the Island, and the 800,000th tree of our MillionTreesNYC program could not have a better home, where it will be part of this spectacular new park that will open next spring."
The new 30 acres of park include Liggett Terrace, a sunny, six-acre plaza with seasonal plantings, seating, water features and public art; Hammock Grove, a ten-acre forested space that is home to 1,500 new trees, play areas and 50 hammocks; and the Play Lawn, 14 acres for play and relaxation that includes two natural turf ball fields sized for adult softball and Little League baseball. In addition, new welcome areas have been added at the Island's ferry landings, as have key visitor amenities, including lighting, seating and signage throughout the Historic District. The Island and the new park spaces will open to the public in May of 2014.
Thursday morning's tree planting ceremony drew a crowd of over 300 visitors, many of whom played a role in bringing the new park to life. After the ceremony, visitors were invited to explore the new park spaces and enjoy the brisk yet sunny November morning on Governors Island.
This past July, Mayor Bloomberg broke ground on The Hills, an additional 10 acres that are the culminating feature of the new Governors Island Park. Made of recycled construction and fill materials, The Hills will rise 25 to 80 feet above the Island, and the summit of the tallest Hill will provide visitors with a 360-degree panorama of the Statue of Liberty, New York Harbor and the Lower Manhattan skyline. The Hills are currently under construction with the goal of completion in 2015.
West 8 is an award-winning international office for urban design and landscape architecture founded in 1987. Over the last 25 years West 8 has established itself as a leading practice with an international team of 70 architects, urban designers, landscape architects and industrial engineers. West 8 developed projects all over the world in places such as Copenhagen, London, Moscow, New York, Madrid, Toronto and Amsterdam. The office gained international recognition with projects such as Schouwburgplein in Rotterdam (NL), Borneo-Sporenburg in Amsterdam (NL), Chiswick Park in London (UK) and Expo \'02 in Yverdon-les-Bains (CH). Many of the projects are the result of groundbreaking entries in important international competitions. Recently won competitions include Toronto Waterfront in Toronto (CA), Governors Island in New York (USA) and Playa de Palma in Mallorca (ES).
Amongst the numerous awards received by West 8 are the Honor Award of the American Society of Landscape Architects (ASLA), Lifetime Achievement Award for Architecture 2011, Mondriaan Fund (formerly BKVB), the International Urban Landscape Gold Award (IULA), the Prix de Rome, the Dutch Maaskant Award, the Bijhouwer Award, the Rosa Barba First European Landscape Prize, the Green Pin and the Veronica Rudge Green Prize for Urban Design.
The full Governors Island Park and Public Space Master Plan is available at www.govislandpark.com.