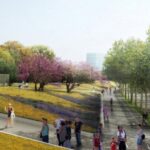 West 8 has won the Segrera Linear Park design competition in Barcelona
Rotterdam, 23 June 2011 – West 8 has won the Segrera Linear Park design competition in Barcelona. West 8 collaborated on this occasion with RCR and AldayJover.
The winning entry, titled Camí Comtal, provides relief to the bustling city of Cerdá, introducing a new green slow route to counter today's urban frenzy and activity, represented by the (other) Diagonal Avenue.
The new green corridor, four kilometer long, extending from the city's fringe deep into the heart of the centre is the successful result of the tunneling of the new Very fast Train route from France to Barcelona Sagrera/Sans. The urban precincts on either side of the route which used to be separated by railway yards are now linked by a series of parks.
West 8 is an award-winning international office for urban design and landscape architecture founded in 1987. Over the last 20 years West 8 has established itself as a leading practice with an international team of 70 architects, urban designers, landscape architects and industrial engineers. West 8 developed projects all over the world in places such as Copenhagen, London, Moscow, New York, Madrid, Toronto and Amsterdam. The office gained international recognition with projects such as Schouwburgplein in Rotterdam (NL), Borneo-Sporenburg in Amsterdam (NL), Chiswick Park in London (UK) and Expo '02 in Yverdon-les-Bains (CH). Many of the projects are the result of groundbreaking entries in important international competitions. Recently won competitions include Toronto Waterfront in Toronto (CA), Governors Island in New York (USA) and Playa de Palma in Mallorca (ES).
Amongst the numerous awards received by West 8 are the Honor Award of the American Society of Landscape Architects (ASLA), the International Urban Landscape Gold Award (IULA), the Prix de Rome, the Dutch Maaskant Award, the Bijhouwer Award, the Rosa Barba First European Landscape Prize, the Green Pin and the Veronica Rudge Green Prize for Urban Design.
For more information: Public Relations, Allard Terwel, +31 (0)10 – 485 58 01, pr@west8.com, www.west8.com