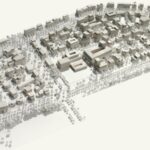 West 8 Winner of Freiham Nord Urban and Landscape Planning Competition, Munich
On 21 September 2011, the Department of Urban Planning and Construction announced that West 8 has won the competition of urban and landscape planning for the first phase of Freiham North.
Freiham Nord will be the last substantial development to take place in Munich and will accommodate about 10.000 inhabitants. In the Masterplan, Freiham Nord has been divided into several project areas with different programming, each about 40 ha in size. The design competition in which 24 offices participated, was organized by the city of Munich and concerned the first two development areas.
Mayor Of Munich, Christian Ude comments that the West 8 winning design "promises a pleasing vibrancy and diversity of the plots."
Urban Planning Councillor Prof. Dr. (I) Elizabeth Merk: "Freiham offers the chance to tread a different path in a small-scale urban development and to realize a growing city in space and time structure. Open space and green structure is therefore a key element of this urban design. 'Everyone wants a house' – the selected competition design meets this request by a tight, yet loosened development structure, which is conveyed by a green space design."
Winners of the competition:
Part A
Community center, school and Sports Centre
1st Prize – Ortner & Ortner Baukunst Gesellschaft von Architekten, Berlin
Part B
Housing and Neighborhood Center
1st Prize – West 8 urban design & landscape architecture, Rotterdam
West 8 is an award-winning international office for urban design and landscape architecture founded in 1987. Over the last 20 years West 8 has established itself as a leading practice with an international team of 70 architects, urban designers, landscape architects and industrial engineers. West 8 developed projects all over the world in places such as Copenhagen, London, Moscow, New York, Madrid, Toronto and Amsterdam. The office gained international recognition with projects such as Schouwburgplein in Rotterdam (NL), Borneo-Sporenburg in Amsterdam (NL), Chiswick Park in London (UK) and Expo '02 in Yverdon-les-Bains (CH). Many of the projects are the result of groundbreaking entries in important international competitions. Recently won competitions include Toronto Waterfront in Toronto (CA), Governors Island in New York (USA) and Playa de Palma in Mallorca (ES).
Amongst the numerous awards received by West 8 are the Honor Award of the American Society of Landscape Architects (ASLA), the International Urban Landscape Gold Award (IULA), the Prix de Rome, the Dutch Maaskant Award, the Bijhouwer Award, the Rosa Barba First European Landscape Prize, the Green Pin and the Veronica Rudge Green Prize for Urban Design.
For more information: Public Relations, Winnie Poon, +31 (0)10 – 485 58 01, pr@west8.com, www.west8.com