Expo.02 – Yverdon-les-Bains
Yverdon-les-Bains, CH
Designed and installed for the 2002 Swiss National Exhibition, Expo.02, "I and the Universe" saw a series of enormous artificial dunes, towering six meters in height, installed in Yverdon-les-Bains.
Wandering between or over these hills, visitors were confronted with masses of flowers in strong colours and psychedelic patterns, which also produced (dis-) orientating fragrances. Various facilities were accommodated in rough timber structures and integrated inside of the dunes. The structures acted as 'artificial body-parts' that completed the form of each dune. Each pavilion roof was covered with semi-transparent stamoid, bubble-jet printed with a graphic flower-pattern, that reflected the biological species on the dune itself.  In addition, an artificial, floating cloud formed an 'objet du desir' in the lake of Neuchâtel, and was accessible only by vanishing into its white foggy substance.
Because of a natural approach to materials and elementary detailing, every built object on the Arteplage was recyclable and subsequently taken away from the site after the end of the expo.
The 'Arteplage' of Yverdon-les-Bains was one of the five sites into which the 2002 Swiss National Exhibition was divided. These were located in Neuchâtel, Yverdon-les-Bains, Morat/Murten, Biel/Bienne and on a mobile barge that allowed visitors to traverse from one site to another. The collaborative design team called 'Extasia' was led by West 8 and was the result of winning an international competition for the design of the expo.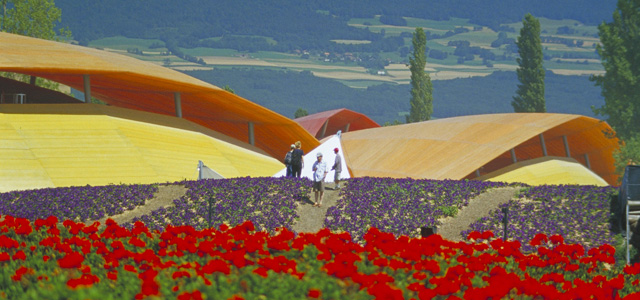 Partners
Diller & Scofidio, Vehovar & Jauslin, Morphing systems, Delux, Techdata