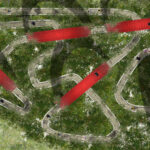 West 8 designs Garden of 10.000 Bridges for prestigious Xi'an Horticulture Exhibition
For the 2011 Xi'an International Horticulture Exhibition, West 8 designed a Master Landscape Architect Garden, that plays with the limits and the sensation of surprise.
Gardens are telling stories; they are poetry and have a narrative.Our garden represents the human life, the path of people's lifetime. This path is a path of uncertainty and burden. Many bridges over troubled water.The garden design takes this path of life as a meandering, winding road – continuous and like a labyrinth.The path through nature takes you over 10000 bridges.
The International Horticulture Exhibition 2011 will be held in Xi'an, China from 9 April to 8 October 2011.