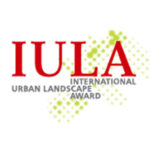 West 8 wins International Urban Landscape Gold Award
West 8's project "Neues Wohnen in Hamburg-Jenfeld", designed for the City of Hamburg Bezirk Wandsbek, Bundesanstalt für Immobilienaufgaben and BSU, has been awarded the Gold Award in this year's International Urban Landscape Award (IULA). The ecological neighbourhood project is the winner of the €25,000 prize.
"Neues Wohnen in Hamburg-Jenfeld" is a new ecological development neighbourhood in Hamburg-Germany, for living and working, which combines low carbon housing and renewable energy. Based on the winning competition entry, West 8 designed the masterplan for the urban development, the landscape strategy and the architectural guidelines for the sustainable realization of the new area. Three design principles play a prominent role: partial collectivity and clear individuality, coupled with social and ecological sustainability.
Eurohypo AG, one of the leading international specialist banks for real estate and public finance together with Topos – The International Review of Landscape Architecture and Urban Design presented the IULA 2009 in Frankfurt/Main on 26th January. IULA aimed to find urban design solutions for the challenges of dynamic population changes and shifting economies, as well as creative concepts for social and economic integration within the city and its districts, placing emphasis on energy-efficient and resource optimised construction.
The jury – Klaus Daniels (TU Darmstadt), Simon Guy (University of Manchester), Yvonne Rydin (University College London), Peter Roberts (University of Leeds), Claus Steffan (TU Berlin) und Robert Schäfer (Topos, München) – was impressed by the revitalization of Lettow-Vorbeck-barracks in Hamburg-Jenfeld.
Dr. Frank Poerschke, Chairman of Eurohypo AG said: "Eurohypo was delighted by the responses we have received for IULA and are pleased to present the awards to "Neues Wohnen in Hamburg-Jenfeld" as well as the Lea River and LifE Project. All three award winners demonstrated the attributes that the jury was looking for in terms of identifying creative low carbon concepts for social and economic integration within the city and its districts. In total, the quality of all 43 projects submitted was extremely high and the expert jury had to make tough decisions."
http://www.eurohypo.com/de/system/news_main/NewsFrameset_21322.html
Media Contacts:
West 8 urban design & landscape architecture, pr@west8.com, +31 (0) 10 4855801, www.west8.com